Great times for a great cause
Big Brothers Big Sisters of Central Oregon is a donor funded and volunteer supported agency. We rely greatly on community members that attend our events. Thank you for your support!
Upcoming Events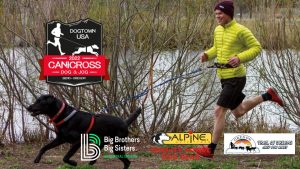 Join us on Saturday May 28, 2022 for the inaugural DOGTOWN USA CANICROSS DOG & JOG at the beautiful Deschutes County Fair & Expo Center.
Presented by Alpine Outfitters Active Dog Gear and Oregon Trail of Dreams Sled Dog Tours.
All DOG & JOG proceeds benefit Big Brothers Big Sisters of Central Oregon.
Races include:
- 400 Meter Kids Junior Canicross
- 5K Canicross (Run/Walk) Individual
- 1 Mile Canicross (Run/Walk) Individuals
- 1 Mile Canicross (Run/Walk) Couples
What is Canicross?
Canicross is canine cross country. Canicross at any level - walk, jog or run - as a competitive sport, as training for other dog powered sports, or as an activity for person and pup to exercise. The person wears a belt, the dog wears a harness and the two are attached with a bungee leash (leash in hand connected to collar is acceptable). The synergy of dog and person power is an incredible bonding activity for you and your dog and takes walking, jogging or running to another level.