covid - 19
During this pandemic, we are doing what we can to stay connected and support our matches and their families. We are still available, although some things have been put on hold. To keep you connected with your Little, check out our activities for Bigs and Littles to do together, as well as the Big Discount List. 
The following is a list of changes we've had to make until we reach the other side of this. We can get through this together!
BBBSCO is open, and most staff members are working remotely to ensure staff and community health.
Our Match Support Specialists are available, as always, to offer support and conduct regular Match Support Contacts with Bigs, Littles & Parents/Guardians.
Matched Bigs & Littles are now able to have in-person outings if all parties agree, the Match Support Specialist is notified and matches are following social distancing recommendations and mask requirements. If matches are not comfortable with in person outings, Please refer to the PDF "Ways for Bigs & Littles to Engage during Covid 19" for creative and fun ways to engage with your Littles during this challenging time.
If Bigs are video-communicating with their Littles via Facetime, Zoom, Skype etc., please ensure to do this through the parent/guardian's device, but if that is not possible, please communicate with the parent/guardian when you will be video-communicating with your Little. In normal times, a Big communicates with the parent/guardian of the Little about when and where their outings will take place. The same rules apply during this unprecedented time.
BBBSCO continues to accept applications for Bigs & Littles, although interviews are currently being held via Zoom.
Bowl For Kids' Sake, originally scheduled on May 7th has been postponed until further notice.
To help support BBBSCO during this difficult time, please consider making a donation or become a monthly donor by clicking on the "Donate" tab.
For updates on our program or current resources, please visit us on Facebook (@BigBrothersBigSistersofCentralOregon) and Instagram (@bbbsco).
For updated community resources though out Central Oregon, please click on the Google Documents below. - En Español tambien!
https://docs.google.com/document/d/1dqUtxbQaB6VJMUekF5jSbBDUDUxo6zOUYIJfGDC8BoE/edit?usp=sharing

https://docs.google.com/document/d/1dMNoL4BR2W-VVheAZP9a7nBGDE0B9nAyEsbFlLF35u0/edit?usp=sharing
COMEDY FOR KIDS' SAKE 2020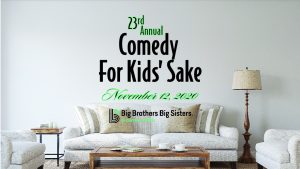 Big Brothers Big Sisters of Central Oregon invites you to a hilariously beneficial evening of comedy, auctions and awards.
This year, let BBBSCO join you, Thursday November 12th, in your home for our virtual gala and help us end the wait for so many Littles in our area.  We invite you to set up your own party pod and enjoy an evening with friends and family participating in a safely distanced atmosphere, bidding on your favorite auction items, viewing our video presentation, and contributing to our cause in a way that is comfortable for you.
Read More...
Register for our online auction... note that when you arrive on the auction landing page, click 'start bidding' to register. 
BBBS Bingo!
Many of you have asked for advice on how to connect with your Big or Little during this unprecedented time.  Well, we have a fun answer!  Let's play Bingo during the month of May!  Each match will choose a row, column or diagonal of five activities to complete during the month.   As you complete each one of these activities, be sure to take a picture/video of the activity.  When you complete your five boxes and can scream "BINGO!", send us a picture of the completed card and you will WIN A PRIZE!  For each picture/video of the activities you complete throughout the month that are emailed to us, your names will go into a hat to win yet ANOTHER PRIZE!!!  And for you BIG overachievers who want to "blackout" the card together, (complete every box), well that is worthy of an awesome prize! 
A new BBBSCO BINGO game is coming soon!
We hope you have BIG fun with this activity and look forward to seeing your creativity!  Please send your pictures/videos or questions to Bridget Albert at balbert@bbbsco.org. 
Why Mentoring?
A mentor assures young people that someone cares, will be there through challenges, and help them see the strength in themselves. Mentoring has been shown to improve the futures of mentees through better grades, achievement of higher levels of education, and improved relationships. Essentially, young people with a mentor grow personally and have better social and economic opportunity than those who do not. Yet many kids in Central Oregon never have this opportunity.
For those who are mentoring, the experience not only offers the opportunity to have fun in our community and see the world through a youth's perspective, but builds leadership and management skills. It is an empowering way to touch the future.
Big Brothers Big Sisters of Central Oregon serves the Bend, Redmond, Prineville, and Madras areas. We are a part of the nation's largest mentoring network solely supported by donors and volunteers. Be someone who matters to someone who matters.  Please join us to make a difference in a child's life.
Nominate a Big With A Badge
BBBSCO is thrilled to announce our Bigs with Badges Program.  Our goal is to match 10 children this summer with a mentor who is a badge wearing employee to help bridge the gap between law enforcement and the community.  If you are, or know a person who is in any type of law enforcement, a paramedic or is a  fire fighter, please nominate this potential Big by calling 541-312-6047!

Ashton Eaton's PSA
Our Mission
Our Mission is to create and support one-to-one mentoring relationships that ignite the promise and power of youth.