Mentoring Changes Lives
Redefining what is possible for children in Central Oregon:  Matching professionally screened adult mentors (Bigs) and kids (Littles) to help shape a child's future. 
Why Mentoring?
A mentor assures young people that someone cares, will be there through challenges, and help them see the strength in themselves. Mentoring has been shown to improve the futures of mentees through better grades, achievement of higher levels of education, and improved relationships. Essentially, young people with a mentor grow personally and have better social and economic opportunity than those who do not. Yet many kids in Central Oregon never have this opportunity.
For those who are mentoring, the experience not only offers the opportunity to have fun in our community and see the world through a youth's perspective, but builds leadership and management skills. It is an empowering way to touch the future.
Big Brothers Big Sisters of Central Oregon serves the Bend, Redmond, and Madras areas. We are a part of the nation's largest mentoring network solely supported by donors and volunteers. Be someone who matters to someone who matters.  Please join us to make a difference in a child's life.
Nominate a Big With A Badge
BBBSCO is thrilled to announce our Bigs with Badges Program.  Our goal is to match 10 children this summer with a mentor who is a badge wearing employee to help bridge the gap between law enforcement and the community.  If you are, or know a person who is in any type of law enforcement, a paramedic or is a  fire fighter, please nominate this potential Big online  or by calling 541-312-6047!

Comedy For Kids Sake 2018
Join us for our biggest event of the year: our 21st Annual Comedy For Kids' Sake on Friday, October 26th, Bend's premier red carpet event! This year's entertainment will knock your socks off, featuring two of Portland's most hilarious and well-known comedians, Tyler Boeh and Todd Armstrong, and hosted by Central Oregon's Best Radio Personality, Tracee Tuesday! We are offering Bigs in our program buy-one-get-one-free tickets. To take advantage of this, or to volunteer in trade for a ticket, contact Bridget at balbert@bbbsco.org or call 541-312-6047.  Read More - Download a Sponsorship Packet - Buy Tickets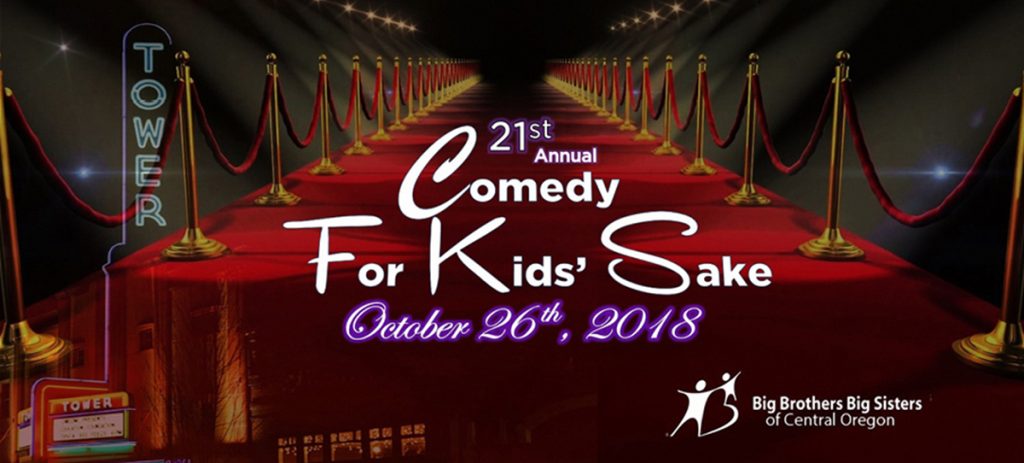 Ashton Eaton's PSA
Our Mission
Our Mission is to provide children facing adversity with strong and enduring, professionally supported one-to-one relationships that change their lives for the better, forever.